Regatta Programs 2019
Click on the Regatta below to download the Regatta Program. Don't forget to download the General Sailing Instructions opposite too!
* Links to Regatta docs will be added above when made availble from each club
Having trouble viewing these files?

Sailing Events Calendar 2019
Download the latest Strangford Lough Sailing Events Calendar 2019
here!
Reminder - Submit this year's IRC certificates as soon as possible!
Sailing Instructions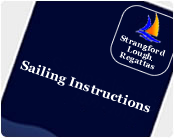 The list of Regattas and their dates are shown opposite, and the general Sailing Instructions for all Regattas can be downloaded at the link below.
Download General Sailing Instructions
Local Weather